September 2022 – Volume 30, Issue 1
Message from the President and Chief Negotiator

by Michelle Webber and Larry Savage
As the Fall term unfolds, members of the BUFA Negotiating Team have commenced their work ahead of our formal contract negotiations that will take place in the spring. Our current Collective Agreement expires on June 30, 2023. The Team is under the leadership of Larry Savage (Chief Negotiator) and Betty Ombuki-Berman (Deputy Chief Negotiator) and includes Liz Clarke (CPCF), Gale Coskan-Johnson (ENGL), Martin Kusy (FOIS), and Jonathan Younker (LIB). The President is an ex officio member of the team. Larry also serves as the Chair of CAUT's Collective Bargaining and Organizing Committee. Such a position provides him with a wide lens for the bargaining landscape across Canada and we are grateful for his expertise.
The Negotiating Team will use several consultative tools to inform their drafting of a bargaining mandate. All members will receive the bargaining survey toward the end of September and access to the survey will remain open until October 21st. We continue to use a combination of quantitative and qualitative questions. In our last round, members' qualitative comments were invaluable in shaping the Association's response to complex issues in bargaining.
We have also reached out to all academic units requesting time at an upcoming unit meeting in order to gather unit-specific feedback that may not be captured in the bargaining survey. Those meetings will be completed by early November.
As we have done in earlier rounds of bargaining, we will again hold thematic meetings that are open to all members as another forum to provide feedback about their concerns and priorities. There will be five thematic sessions: 1. Chairs, Directors, Graduate Program Directors, and Library Department Heads; 2. Teaching Focus; 3. Research Focus; 4. BIPOC Focus; 5. LTA/ILTA focus. Dates and times will be released shortly.
Your feedback is important as the Negotiating Team will assemble a bargaining mandate based on your responses to the survey, our visits with academic units, and feedback provided during the thematic sessions. The bargaining mandate will be presented to the membership for approval during the December General Membership Meeting (December 6th, 9:30 a.m. – 10:30 a.m.).
The Team will then spend the winter term drafting contract language that actions the mandate. Formal bargaining will begin in April 2023.

Get involved and support our Negotiating Team by joining the Contract Action Team

In order for BUFA to secure a fair and reasonable contract settlement next Spring, members of the Association need to be organized and mobilized in support of BUFA's bargaining mandate. That takes plenty of advance planning, which is why the Association is forming a Contract Action Team (CAT). The BUFA CAT helps to broaden the base of the bargaining effort by keeping members engaged & involved.  Its work is key to boosting our power at the bargaining table.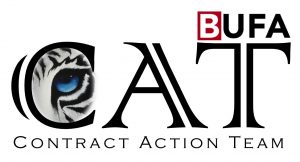 Members of the CAT will (1) work to ensure strong two-way communication between the negotiating team and faculty and professional librarian members; (2) help to organize and plan campaigns in support of BUFA's bargaining objectives; and (3) provide a sounding board for issues that arise during the bargaining process.
A union is only as strong as its members. This is a great opportunity to get involved, meet other faculty and professional librarian members from across the university, and build support for fair and reasonable collective agreement. No experience necessary and training provided!
Please send your interest in the form of an email to BUFA or directly to CAT Chair Jonah Butovsky.
2021-2022 BUFA Undergraduate Scholarship Awards
Each year, BUFA awards $1000 scholarships to five undergraduate and two graduate students. These BUFA awards recognize excellence in academic achievements, as well as significant and on-going dedication to community service.
Congratulations to this year's Undergraduate Award recipients:
Alyssa Brew, Criminology
Devon Fiander, Sociology
Benjamin Mandigo, ADME Business
Hassen Manghnani, Health Sciences
Jordan Sheridan, Biology
We wish all applicants the best for their future endeavours!

by Tim Murphy
Auditor General Report on Laurentian
The declaration of bankruptcy at Laurentian University, the Administration's choice to file for court protection under the Companies' Creditors Arrangement Act (CCAA) in 2021, and the provincial government's response took many by surprise. This action, initially designed for use by private companies, resulted in the loss of almost 200 faculty and staff positions and almost 70 programs at Laurentian; many of which uniquely served the Indigenous and francophone students in northern Ontario. OCUFA supported the Laurentian University Faculty Associate in their fight, spearheaded campaigns to pressure the provincial government to increase financial support for post-secondary educational institutions, reform the CCAA so it may never be used again with a public institution, and investigate the actions of the Laurentian Administration and the provincial government. These campaigns resulted in thousands of emails and letters being sent to MPs and MPPs. In April, the Auditor General of Ontario released a report critical of almost every aspect of the management of Laurentian from the Administration choosing the CCAA to the lack of financial support and transparency from the provincial government. The report also concluded that the use of the CCAA was not appropriate nor inevitable had the Administration been more transparent and had the provincial government acted sooner and provided more support. Laurentian is now emerging from its financial crisis, but we need to maintain pressure to reform the CCAA so that no other university chooses to use such a process in the future.
Provincial Election and Lobbying
As you know, in the provincial election of June 2022, three of the four local ridings were held by the NDP; however, province-wide the Ontario Conservative Party won a majority. Such a win will present multiple challenges for the university sector. Government funding has been steadily decreasing for decades. Government initiatives such as the "Student Choice Initiative" (an attempt to eliminate student unions and thus dissenting student options), expanding
degree-granting privileges to colleges, and supporting the increase in private colleges are all indications that the current provincial government does not support of many of OCUFA's core values. OCUFA has been working consistently to maintain pressure on the provincial government to adequately support post-secondary education in the province.
OCUFA is organizing an Advocacy Day on November 15 where representatives from numerous faculty associations will meet with MPPs in Toronto to present our demands for meaningful investment in public university funding and support for university research, to address fairness for contract faculty, and to protect our public universities from further erosion of funding and our ability to participate in collegial governance. These advocacy days are one tool to maintain pressure on the provincial government. OCUFA also relies on our individual members to write to their MPPs and participate in the various campaigns organized by OCUFA.
BILL 124 Challenge
Bill 124, the Protecting a Sustainable Public Sector for Future Generations Act (passed in 2019), which introduced a 3 year period of wage restraint, interferes with free and fair collective bargaining. In 2020 OCUFA joined approximately 40 other unions in a legal action to challenge the constitutionality of the Bill. Hearings began in mid-September.
Support OCUFA
OCUFA remains committed to fight back against any legislation or policies that impede the goals of strong public funding of university teaching and research, fairness for contract faculty, sufficient student financial funding or assistance, meaningful collegial governance, and a commitment to equity that is involved in every aspect of this work. Our collective actions make a difference. Our successes require individual member support and action.
A Cluster Hire Primer

by Liz Clarke and Betty Ombuki-Berman
Brock has been actively hiring Indigenous scholars over the last two years and has just approved a cluster hire of Black scholars to take place over the next three years. This is in line with actions by other universities in Canada (and USA). The BUFA executive supports these initiatives and would like to use this opportunity to clear up any questions our members may have.
For the upcoming Black cluster hire, departments can request an open hire—any area of research, any level—and following the same hiring process as defined in our CA. If approved for one of these positions, a department can issue an open call similar to any other hire with the exception that applicants must identify as Black. For example, departments do not have to craft requests around areas pertaining to Black history, Black film, or Black literature.
These positions should not be understood in competition with or separate from "regular hires." If EDIs to be fostered at our university it is important not just to increase representation of historically underrepresented and historically disadvantaged groups, it is also important to recognize the value these scholars will bring to the institution. These are not scholars who come at the expense of what departments need. These positions represent a need that is often unacknowledged. It is up to the administration to continue to balance cluster hires with additional hiring requests put forth by individual departments. A university truly committed to EDI will not privilege one over the other.
The call for Black positions will come out [CHECK WITH MICHELLE]. All departments are encouraged to apply. Any department or faculty that has low representation of Black faculty will be given priority.
There are many universities across Canada currently posting positions such as ours. For an example of wording for job ads, we like University of Waterloo's example "Black Excellence—Multiple Faculty Appointments Open." Adapted for our own process, which leaves the job ad up to individual departments, rather than an open call for the entire university, we might write an adverstisement like this:
The Department of [Your Department Here] at Brock University is pleased to announce an open position for an emerging or established Black scholar who will contribute to Black excellence in our department and at the university. Brock University is committed to maintaining a culture of equity, diversity, and inclusivity, including the increased representation of Black peoples.
All areas of research will be considered, with special consideration given to [include list].
Cluster hires are legally recognized under the Ontario Human Rights Commission. This is not a discriminatory hiring practice. If attention is paid to a strong job ad, and the hiring process maintains the rigour of all other hirings, the cluster hires should not be seen as separate from, but rather an integral part of, Brock's strength as an institution of higher learning.
BUFA GENERAL MEMBERSHIP MEETING
October 25, 2022 at 9:30 a.m.