March 2023 – Volume 30, Issue 2
MESSAGE FROM THE PRESIDENT


by Michelle Webber
It is election season at Brock. Nominations are now open for both the BUFA Executive Committee and the University Senate. Both bodies will hold their elections at the end of March.
Nominations are currently open for candidates to run for the 2023-2024 BUFA Executive and will close at noon on Wednesday March 22nd. All positions are open (President, Vice President, Grievance Officer, Treasurer, Equity Officer, Health and Safety Officer, Communications Director, Professional Librarian Representative, Non-tenured Faculty Representative, and two Member-at-Large positions). Each candidate requires 3 email nominations to be sent to the BUFA office. The election will be held Wednesday March 29th – Thursday March 30th via the membership-protected section of the BUFA website. Successful candidates will assume their positions on July 1st, 2023. A strong and active Association relies on the participation of its membership.
Likewise, a strong participatory Senate is needed in order to preserve the things we cherish most about university governance, such as collegial governance. BUFA members' concerns about terms and conditions of work often intersect with issues of education policy that are debated at Senate. The University needs Senators who understand the importance of faculty and professional librarian voices in academic decision-making. BUFA members have a wealth of academic expertise and pedagogical experience to contribute to Senate discussions about the visioning, planning, reviewing, and prioritizing of academic policy matters.
Nominations for the 2023-2024 Senate close on Tuesday March 14th, 4:30 p.m. Electronic voting will begin on Monday March 20th, 8:30 a.m. and continue until Tuesday March 28th, 4:30 p.m. More detailed information about the Senate election process can be found at https://brocku.ca/university-secretariat/senate-election/.
I hope members will give serious consideration to running for a position on Senate or the BUFA Executive or both!
BUFA COLLECTIVE BARGAINING FAQ

by Larry Savage
Preparations for the 2023 round of collective bargaining are well underway. Below, I've compiled a collective bargaining FAQ to answer the most common questions members have posed concerning negotiations.
1. When do negotiations begin?
Although BUFA will send an official notice to bargain to the Administration on April 3rd, the parties have agreed that bargaining will begin in earnest on May 1st, 2023 and have set aside an additional 15 bargaining dates in May and June.
2. What are the big issues?
In December 2022, BUFA members endorsed a bargaining mandate with eight key priorities, including the need to push for a renewal program that would increase the net number of permanent faculty and professional librarian positions and provide more attractive retirement options. A condensed point-form version of the mandate is reproduced below (in no particular priority order) and more detailed bargaining backgrounders are available on the BUFA website under resources.
Preserve educational quality and improve the student experience.
Build up supports for research, scholarship, creative activity, and unscheduled teaching.
Maintain fair and reasonable compensation and benefit levels that preserve our relative position in total compensation compared to other Ontario universities.
Work to address collective agreement issues as they relate to equity, diversity, and inclusion.
Defend measures to preserve transparency, consultation, and collegial decision-making in the selection of senior academic administrators.
Improve terms and conditions of work for professional librarians.
Explore ways to increase job security for limited term faculty.
Provide greater scheduling protections for members.
3. Who is serving on the BUFA Negotiating Team?
The BUFA Negotiating Team is experienced, diverse, and is working extremely well together. The Team consists of: Larry Savage (Chief Negotiator), Betty Ombuki-Berman (Deputy Chief Negotiator), Liz Clarke, Gale Coskan-Johnson, Martin Kusy, Jonathan Younker, and Michelle Webber (BUFA President). BUFA staff member Shannon Lever provides the Team with administrative support.
4. Who is serving on the Administration's Negotiating Team?
The Administration has indicated that Vice-Provost, and Associate Vice-President, Academic Brian Power will act as their Chief Negotiator and that Suzanne Curtin, Vice-Provost, Graduate Studies and Dean, Faculty of Graduate Studies will act as their side's Deputy Chief Negotiator. Beyond that, we expect the Administration's Team to include staff from human resources.
5. When will the new collective agreement come into force?
In the last two rounds of bargaining, the parties successfully renegotiated the contract before its expiry on June 30. However, that was atypical. Normally, the current contract expires before the new contract is settled. It really depends on how well negotiations go and how committed the parties are to reaching a fair settlement within a specific time frame. If negotiations drag on or the Administration makes outrageous concessionary demands that the Association cannot accept, the possibility of a labour dispute increases. It's also important to remember that either party may seek mediation, or conciliation (a necessary step before a legal labour dispute may occur), to help the parties reach a deal. In short, it's too early to tell, but members should be prepared for any scenario.
6. Are you optimistic that BUFA can negotiate a fair deal?
Given three years of government-imposed wage restraint and just over a year of higher than usual inflation has eroded our salaries, we have some catching up to do if we want to maintain fair and reasonable compensation. But salary is only one piece of the puzzle. Mental health supports, job security for limited term members, advancing equity, and defending collegial governance are also key priorities. The Association must insist on a comprehensive contract that addresses each priority in our bargaining mandate. At the end of the day, achieving our aims and objectives depends almost entirely on the willingness of BUFA members to defend their rights and insist on a fair deal that preserves the quality of education and enhances the student experience at Brock. These are not pie-in-the-sky goals, but rather imperative to protecting the academic mission of the University.
7. How can I help secure a fair deal?
Join BUFA's Contract Action Team, become a department liaison, and answer calls to participate in actions like the current BUFA poster campaign. The Negotiating Team is committed to two-way communication with members throughout the bargaining process, but don't lose sight of the fact that YOU are the union and that a union is only as strong as its members. In short, get involved, organize your colleagues, and be ready to mobilize in support of a fair deal.
CONTRACT ACTION TEAM


by Jonah Butovsky
Being involved in the Contract Action Team (CAT) is like being part of a year-long group project but instead of having a bunch of reluctant participants, we have a group of enthusiastic overachievers. The overarching goal of the CAT is to leverage power to support the Negotiating Team achieve the membership's bargaining demands. The intensity of member engagement in this task has been truly impressive.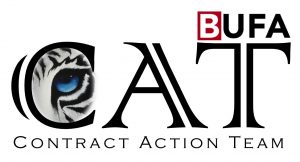 Since the start of academic year, the CAT has organized a number of tasks to encourage member engagement. We encouraged BUFA members to fill out the bargaining survey and attend our bargaining mandate meeting. BUFA members delivered! There was record participation for both!
At the end of January, CAT members (over 40 strong!) met to discuss a distribution strategy for our poster campaign. We decided that CAT members would reach out to their contacts to ask them which posters they wanted on their doors/bulletin boards. By displaying a poster of their door/board, members are affirming their support of the Negotiating Team and specifying which specific priority(ies) they are most passionate about. At that meeting we set an ambitious goal to have posters on the doors/boards of 50% of our members. I am happy to report that we quickly hit that number by February 10th. In the days since, I know that dozens more posters have been placed on doors and bulletin boards.  My counterparts on the OCUFA Bargaining Mobilization Committee are regularly impressed with the engagement of our members.
The BUFA Executive made a great decision to hire a Mobilization Officer and we have been thrilled to welcome Gab Velasco to the team. Many of you have had the pleasure of meeting Gab over the past few months and know that he is organized, enthusiastic, and a quick study. We also appreciate the on-going support work by Joy Werner. Members regularly see Joy's graphic design work on BUFA promotional materials and the bargaining posters are one more example of her contributions.
Speaking personally, it has been a real pleasure getting to know BUFA members across campus.
We are now in the final weeks leading up to the start of active contract negotiations and need to keep building unity in support for our bargaining demands. We are always happy to welcome more members to the CAT. Please reach out to me at [email protected] if you are interested in joining us on the CAT.

2023 BUFA GRADUATE SCHOLARSHIP AWARDS
Each year, BUFA awards $1,000 scholarships to five undergraduate and two graduate students. These BUFA awards recognize excellence in academic achievements, as well as significant and on-going dedication to community service.
How to apply: Download and complete the application form, email to [email protected] with a copy of your unofficial transcript. The application deadline is March 31, 2023.
Since 2014, BUFA has offered
awards to students who have a minimum average of 80% and who show commitment to community service. Awards are $1,000 each. Five scholarships are awarded to undergraduate students and two to graduate students. These awards will be made to two current graduate students who have completed as least one semester of graduate study with a minimum average of 80% and whose community service focuses on equity and social justice issues. Applicants will be required to provide a one-page outline (approximately 500 words), giving evidence of their commitment to community service focusing on equity or social justice issues. Applicants are also required to submit a statement of their grades (an unofficial transcript is acceptable).
The graduate awards will be administered by BUFA. Applications for the undergraduate awards are due later in the spring and are made through the University's OneApp System. Questions can be directed to the BUFA office at [email protected].
THE CHANGING LANDSCAPE OF LIBRARIANSHIP
by Tim Ribaric
You have probably seen several stories in the news of late talking about challenges American Colleges are having with the autonomy of professors and the choices they make in their classrooms. It probably will not surprise you that librarians in Canada are facing similar challenges as their counterparts in the United States.
Last fall I had the opportunity to participate in the Canadian Association of University Teachers (CAUT) Librarians' & Archivists' Conference that explored these challenges in detail. The opening keynote was delivered by Alison Macrina, Executive Director of the Library Freedom Project (https://libraryfreedom.org/). Her talk focused on the growing anti-intellectual movement in the United States that often conducts its battles in library spaces. These battle tactics include actions such as challenging the addition of books to the Library collection that speak to BIPOC and LGBTQ2QS+ issues. Or, how vendors of libraries services, such as LexisNexis, provide information to Immigration and Customs Enforcement (ICE) that is used to target immigrant communities. This keynote set the tone for the remainder of the event. Sessions discussed ways librarians have used long-established methods available to workers in faculty associations, including collegial self-governance, collective bargaining, and the grievance/arbitration process, to address issues specific to librarian life in the academy. One session recounted the plight of librarians at Laval University. Librarians there are trying to gain status as academic staff, a distinction many librarians at Canadian institutions enjoy, Brock included. However, they have encountered systemic challenges via two roadblocks: creating the procedures to enable the recognition of this status and actioning those procedures to bring the change to fruition.
Additional sessions focused on how open scholarship can be utilized as a method of resistance. A discussion was held on open scholarship and how, if utilized correctly, could disrupt the monopolistic publishing landscape where a few multinational publishing houses routinely post profit margins that rival those of bit tech firms. Participants also received hands-on experience with building a comprehensive campaign in response to a developing hypothetical labour issue. This campaign strategizing workshop also included components covering the filing of grievances and crafting news releases.
Attending this conference really demonstrated that these new types of challenges for librarians in the academy are by no means only happening in the United States. It is perhaps quaint to look back at the history of librarianship in Canadian universities and see discussions about resisting censorship and having the freedom to purchase whatever is most necessary for the collection regardless of how politically charged it may be. The landscape has evolved in new directions and these traditional concerns have been eclipsed by more pressing and threatening forces.
by Tim Murphy
I attended the OCUFA meeting in February. Here are some highlights.
Bill 124 (Protecting a Sustainable Pubic Sector for Future Generations Act 2019)
In 2020 OFL led a coalition of over 40 unions to challenge the constitutionality of Bill 124. After almost 2 years Bill 124 was declared " . . . void and of no effect". The Provincial Government has indicated it plans on appealing this decision so the entire process may take years to fully resolve.
Laurentian University Update
Laurentian has emerged from the CCAA process. Dr. Sheila Embleton has been selected as Interim President. Late last year the Auditor General's Report outlined how the major factors leading to the crisis were government irresponsibility, institutional mismanagement and lack of transparent decision-making processes. The Administration's initial claim that faculty and staff wages were primarily responsible were explicitly contradicted in the report. The OCUFA representative from Laurentian reported that they are encouraged by the candidness and transparency demonstrated so far by the new administration. OCUFA and other member organizations continue to campaign to have public institutions removed from the CCAA and BIA. This would shield universities from this type of action in the future. The Liberal and NDP both made reforming the CCAA and BIA part of their platforms in the last federal election. There is a private members bill submitted on this matter, but it is unlikely to be debated during the winter term. OCUFA sent letters to Minister of Innovation, Science and Industry (Francoise-Philippe Champagne), Deputy Prime Minister (Christine Freeland), and Prime Minister (Justin Trudeau), reminding them of their party's election promise. They have also asked all member organizations to send similar letters to maintain pressure to get the CCAA and BIA reformed.
Bill 26 (Strengthening Post-secondary Institutions and Students Act, 2022)
This bill was introduced in October 2022 and received royal assent December 5, 2022 (i.e., it was rushed through with little debate and limited consultation) and comes into effect July 1, 2023. OCUFA is strongly in support of preventing sexual assault and harassment; however, there are several problematic issues with this legislation. The definition of sexual abuse is very vague.It focuses exclusively on faculty/student incidents even though the data clearly show that the vast majority of sexual assaults are student/student in nature. It prohibits the use of non-disclosure agreements unless otherwise requested by the student. It overrides any existing institutional polices and collective agreements. It does not allow an arbitrator to reassess any imposed penalty. It contains no funding for any education, investigation, counter-measures, or support for victims. This legislation will undoubtedly be challenged, perhaps prior to its first use or among the first cases.
OCUFA Advocacy Day 2022
On November 15, 2022 OCUFA representatives met with over 25 MPPs to raise concerns over inadequate meaningful long-term funding, improving working conditions for contract faculty and Bill 26. We met with representatives from all parties. These discussions did have an impact. Four MPPs reported on our meetings and addressed our concerns during question period.

Provincial Government's relationship with Colleges and Universities
For the first time in several years, OCUFA's request to make a presentation to the Standing Committee on Budgets was declined. In fact, they also declined requests from College Associations, Student Associations and the COU. In other words, there will be NO presentations from any group representing the post-secondary education sector.
Presentation about the Effects of COVID lockdowns on Teaching and Research
Dr. Terezia Zorić made a presentation on her research into the effects the pandemic had on faculty from universities in the GTA in terms of impacts to research, teaching, physical, and mental health. Unsurprisingly, the effects were almost all very negative with a disproportionate amount of hardship falling on women and racialized minorities. The majority of faculty (usually in the 60-80% range) report increases in workload of 13 hours/week or more, reduction in amount of research work, reductions in collaborations, inability to meet deadlines, feeling burned out, inadequate support, reduced "personal time" that is now devoted to work, harmful effects on physical and mental health, and so forth.
Continuing with the 4-year Strategic Priorities and Action Plan
OCUFA began a 4-year plan last year to coincide with the expected 4-year provincial election cycle. OCUFA continues to plan and work to fulfil the priorities outlined in that plan. Namely: 1) Being a strong voice for university faculty and academic librarians; 2) Obtaining sustainable public funding for universities; 3) Transparent, equitable, and collegial governance; 4) Promote and protect good academic jobs. Progress made during the past year and plans for the future were outlined for each of these goals.
NAVITAS
NAVITAS is a company that specializes in recruiting and placing international students. They have agreements with Simon Fraser, Manitoba, Toronto Metropolitan and Wilfrid Laurier universities. They rent space at universities and offer their own first year courses as a transition into full-time second year enrolment at Canadian universities. They attempted to reach a deal with Western University but the faculty association helped to defeat the proposition. The problems with NAVITAS are many. Their fees (above tuition) are high, quality control of incoming students is poor, they use predominantly contract faculty, they offer little transparency, and this could lead to privatization of post-secondary education. In short, they are profiting from the hopes of international students while also undermining the consistency and quality of post-secondary education through the use of precariously employed contract faculty. Administrations are considering NAVITAS because it creates a pool of international students who pay high tuition without the costs normally associated with recruiting them. Reports on the success of students vary. Simon Fraser University claims the majority of students entering second year are successful, but others are having significant problems. It was reported that at TMU currently 25% of their undergraduate students are international and they want to increase this by 50% (i.e. 37.5%) and Laurier has set a goal of 1000 international students at their Brantford campus. OCUFA continues to monitor and help associations resist attempts from NAVITAS to set up bases at Ontario universities.
2023 Call for BUFA Committee Membership

Check your email for a full list of the BUFA and University Committees with upcoming positions needing to be filled and a description of their mandates.
The Collective Agreement specifically acknowledges service to the Union as equal to service to the University (Article 21.06) and that such service may be included in your Annual Report.
Contact:

Dawn Good, BUFA Vice President

or

BUFA

by April 3rd, 2023 if you are interested in a committee or have any questions!
BUFA Annual MEMBERSHIP MEETING
May 2, 2023 at 9:30 a.m.