LEADING BY HIRING FULL-TIME FACULTY
Maintaining the cap on casual, part-time teaching will preserve
educational quality and improve the student experience
Brock University and the Brock University Faculty Association (BUFA) agree the educational mission of Brock University can only be upheld if most credit courses are taught by full-time continuing faculty members.
This sentiment is found right in the university's collective agreement with BUFA.
That's why BUFA is proposing in collective bargaining that the university maintain the current cap on courses taught by non-BUFA members and do away with many of the exemptions to the cap that undermine education quality and the student experience.
According to Dr. Larry Savage, BUFA's chief negotiator, if the university increases its proportion of part-time sessional faculty, there will be several unintended consequences.
"(It) will almost certainly make it more difficult for Brock to meet its strategic goal of becoming a well-respected, student-focused comprehensive university," he said.
Part-time sessional instructors provide an important teaching function at the university and, especially in applied programs, share their employment experience with students. However, Savage said, part-time faculty are not nearly as well-equipped as their full-time counterparts to help Brock meet its strategic priorities in terms of teaching, research and governance.
"Contract and part-time faculty are in a weaker position to attract top notch students to Brock, supervise graduate students, secure external research grants, engage in research with students, write letters of reference or participate meaningfully in university governance," he said.
According to the collective agreement, the university acknowledges that unless most credit courses are taught by full-time continuing faculty members, Brock cannot guarantee course instructors are actively engaged in research and scholarship; reasonably available to students for consultation, thesis supervision and reading courses; and able to perform many of the administrative tasks that are essential to its functioning. Additionally, it is only through mostly full-time faculty that the university can ensure the integrity of its academic programs.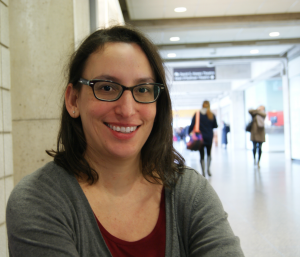 Dr. Neta Gordon, an English language and literature professor, is "extremely committed to introductory undergraduate courses," and teaches many first-year courses. She said there are a lot of challenges students encounter between high school and university and only full-time faculty are equipped to help them deal with that transition. As well, students want to know their professors aren't going anywhere.
"The integrity of the undergraduate program experience for students depends on their ability to know they're being taught by someone who lives here, and by that I mean someone who is committed to the university and the university is committed to them," she said.
When students are taught by mostly contract or part-time instructors, it changes the dynamic of the classroom, Gordon said.
"Students know different. It's unfair because they don't invest as much in the courses that are taught by non-full-time faulty," she said. "(It leads to) taking more classes with instructors who are underpaid and who are trying to cobble together a livable salary usually at more than one institution. They're on campus less. They're not necessarily committed to the institution and why should they be?"
Full-time faculty deal with more than what's in the syllabus. For instance, instructors recognize patterns among students. Gordon said she knows when her students are stressed out, when they need to slow down, and when she can ask more of them. Additionally, Gordon said many former first year students seek her out for assistance or to request letters of reference when they're in their third and fourth years.
Students who interact with mostly part-time instructors "are at a disadvantage because they become more anonymous and they become passive recipients of education and are unable to get things like reference letters," she said. "And that is disadvantageous because a reference letter written by a full-time faculty member is worth more to the granting agency than one from someone who is not at the institution anymore."
Full-time faculty are also involved with Brock's administration, including curriculum development, planning and policy reviews. Faculty establish partnerships with each other and have created a community students automatically tap into. But all of this requires stability, Gordon said.
"And that is the central issue because the best thing for the student is for the professor to be fully committed to this institution and to have the time to fully commit to students and research projects that the students are more or less involved with," she said.
Dr. Bozidar Mitrovic, a physics professor, also teaches many first-year students. Nearly 2,000 students take his popular astronomy course annually.
"At an institution like Brock, which is still what I consider to be a medium-sized institution, it's important for faculty to be involved in research and scholarly work. That translates into the classroom. It helps students beyond what they read in text books," he said. "When you teach, you don't teach the same way as the text covers material and that's why it's important for teachers to be actively involved in research."
Mitrovic said full-time faculty ensure a higher quality of education.
"We are not just teaching the stuff they give in the textbook. University professors go above and beyond. What is important is the high quality of education, to keep the standards high," he said.
Despite the number of Brock students increasing, many professors here are still relatively close to their students. In the physics department, professors' offices are located right across the hall from a main study area. Mitrovic said professors naturally get to know their students simply from proximity.
"The students get involved in research at an early stage in their academic lives," he said. "I have had a lot of success with undergraduate students, publishing papers together, and that does not happen elsewhere. It's experiential learning. They get to explore and do work in a field like physics. I'm not sure if we can keep that up if a big percentage of instructors are part-time. They don't feel the same degree of investment in the students and institution as full-time faculty."
written by Lori Littleton