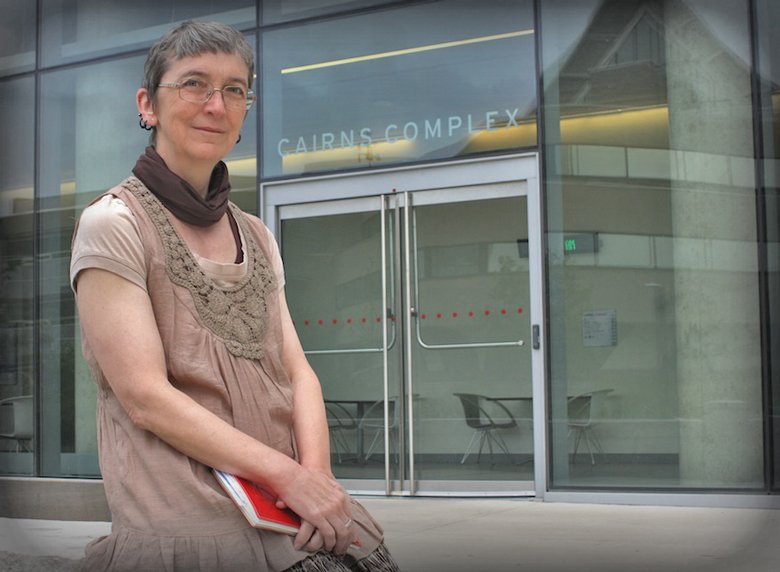 To turn Brock University students into good citizens, professors have to make sure their students know what they need to know – and to know that they know it, says Kinesiology professor Maureen Connolly.
"One of the things we want to know is that the students are providing evidence to us in the form of academic work and performance that demonstrates they've learned the things that we've taught them," says Connolly, whose area of expertise is in meaningful curriculum and adaptive curriculum.
Many of her Kinesiology students are future Physical Education teachers and coaches, so she wants to teach them to be able to assess their students' learning as well as be aware of their own learning.
Connolly says universities should resist the trend sweeping academia toward turning degrees into job training only.
"University is not exclusively about job training. University is citizenship training. It's meant to make you an educated, critical, informed, analytical person. Who wouldn't want to hire someone like that?"
Connolly teaches Kinesiology in the Faculty of Applied Health Sciences. She also has a cross appointment to the Department of Child and Youth Studies and the Centre for Applied Disability Studies.
Connolly, a Newfoundlander, came to Brock in 1991 after working at Memorial University for three years.
Connolly's passion for curriculum development is the kind of skill that makes Brock a better university. The Brock University Faculty Association is highlighting the work of some of its members as the university marks its 50th anniversary. BUFA represents approximately 570 full-time faculty members and professional librarians at Brock. As Brock marks this milestone, BUFA is raising awareness about how professors and librarians are leaders in educational quality, academic freedom, shared academic decision-making, and community building that make Brock an exciting, vibrant institution of higher learning.
Connolly keeps a busy schedule serving on departmental and university committees.
She's on the curriculum committee for both Kinesiology and Child and Youth Studies, has chaired Senate twice, is a past director of the Centre for Teaching and Learning. And she takes on a lot of community service outside the university, especially in the areas of accessibility and disability issues.
"I'd like to think I'm committed to being a good academic citizen."
She cites her working poor upbringing in Newfoundland as her touchstone for a work ethic that pushes her to take her responsibilities to heart – even the behind-the-scenes committee work all professors do when they're not in the classroom or researching.
With her expertise in curriculum development, Connolly says it's increasingly important for a university, its faculty and its students to have valid strategies to assess that students have learned what they were supposed to learn.
"You shouldn't leave university knowing stuff about your discipline. You should leave university prepared to enter a troubled world and not be overcome and overwhelmed by those troubles, to go forward with a sense of hope and confidence. You can't do that if you don't know what you've learned, how you've learned, that you've learned," Connolly says.
That means professors need to be given time to learn how to assess learning, to revise their courses to stay current and to access the professional development opportunities to change a course, for example, from an in-classroom course to one that can be delivered online or a course organized around threshold concepts, or student portfolios.
"Universities hire discipline experts who need not necessarily be trained as teachers," Connolly says.
If professors aren't trained in pedagogy, they might need help learning how to assess their students' learning. It might mean breaking away from the idea that "we've always done it this way, so we'll always do it this way," she says.
Recently, there has been a trend toward incorporating more types of learning, including experiential learning, capstone course, group learning and case-study approaches. Many disciplines are developing "signature pedagogies," meaning that a particular discipline lends itself to being taught in a specific manner – different from other disciplines.
All that means the university needs to be prepared to make the investment required to make a professor and excellent teacher as well as an excellent researcher. "We don't have a corporately based approach to return on investment. We don't roll out tires here. It's people. You don't see the ROI in one year," Connolly says.