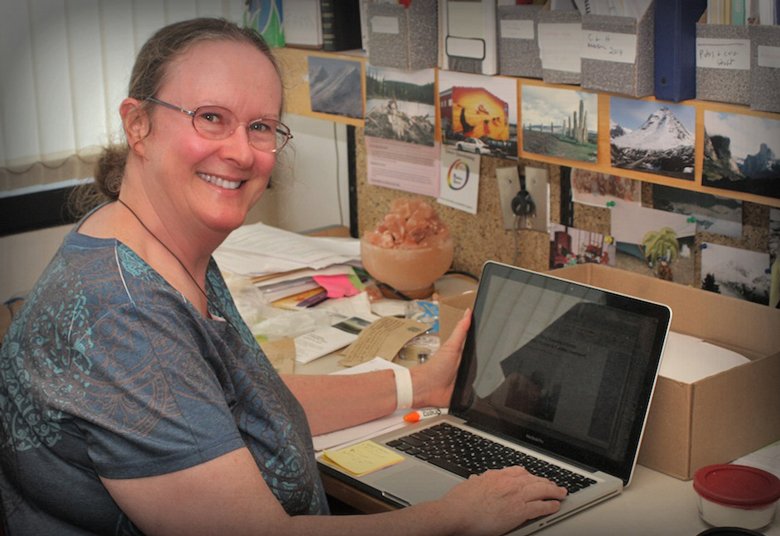 If you want job training, join the army but if you want an education, a university is the place to be, says Brock University Pyschology professor Kathy Belicki. It's why academics have to cling to the traditional values of the university even when economic and financial realities are changing the way universities provide education. Basic training camps efficiently turn civilians into soldiers, giving them the training they need to do their jobs, but there's no emphasis on critical thinking, curiosity or creativity – the hallmarks of education.
"There's an important distinction between education and job training," Belicki says. "Education is about developing curiosity. It's about developing critical thinking. It's about questioning the ways people think now, questioning the way I think now… being open to the possibility I'm wrong."
Sound education facilitates finding a fulfilling career, but it does so by focussing on developing intellectual skills, not on narrowly providing job training.
Dr. Belicki brings a rare perspective to her job at Brock. She has known the university her whole adult life and for almost its entire life. Brock was still young in 1972 when Belicki began her undergraduate studies. She went on to earn a doctorate, teach at York for a few years, but found her way back to Brock's Psychology department in 1986. She recalls being made to feel part of the university, not just a member of a department.
"We were here to build a university and build a community and there was such an emphasis on community within the department and community within the university," she says. "It was a school where you really had a sense… the commitment to quality undergraduate education was in the very air that you breathe." Belicki teaches Introduction to Psychology, one of Brock's biggest courses with 1,400 students, but she says a group of 12-to-14 students is the "sweet spot" for small-group learning.
Belicki's zeal for education over job training is an example of the commitment Brock faculty have to educational quality. The Brock University Faculty Association is highlighting the work of some of its members as the university marks its 50th anniversary. BUFA represents approximately 570 full-time faculty members and professional librarians at Brock. As Brock marks this milestone, BUFA is raising awareness about how professors and librarians are leaders in educational quality, academic freedom, shared academic decision-making, and community building that make Brock an exciting, vibrant institution of higher learning.
The economic realities of running a university mean the way university education is delivered is changing everywhere, not just at Brock. But Belicki says professors shouldn't relinquish the best of the old ways without a fight. For example, she remembers when every course had a seminar group of a dozen or so students, there were no multiple choice exams, professors were involved with their students and professors were in their offices almost every weekday.
Throughout history, the pursuit of higher education has always been an expensive, time-consuming, and often inefficient proposition. By design. "Criticism is what we all do. It's what people joke about concerning academics, but it's also fundamental to how we do business. We discuss, we poke our noses into everything, we disagree. It's inefficient, it's true. That's what community is about, rather than for-profit corporation."
Universities need to hold onto that time-honoured tradition of giving professors the freedom to poke their noses into everything. That's how the best discoveries are made. "Pure, basic research that isn't aimed at developing practical stuff produces some great practical outcomes."
Belicki points to research into the effects of anti-depressants that turned into "bad science" when it became funded by drug companies. For example, many of the studies of the efficacy of these drugs don't use active placebos (placebos that have side effects) with the result that many research participants figure out whether or not they are receiving a placebo.
"We have a society that's taken all kinds of anti-depressants. We now know they're working mostly because of people's minds, because of placebo effects, not because of the drug," Belicki says.
As universities battle with the financial bottom line, Belicki says they can't lose sight of delivering education that fosters curiosity and creativity.
Part of building Brock as a community involves a professoriate that embraces the 20-per-cent of the job requirement to offer service to departmental and university committees, says Belicki, who has been the Chair of the Psychology Department and also done tours of duty on the Department's undergraduate, graduate, space and equipment committees. She has also served on Senate sub-committees, Aboriginal Education Council, the University's Promotion and Tenure Committee and the sexual harassment committee, and on BUFA.
"[As a department], we saw it as just a given we had to have one of our members on important university committees."
Just because Brock is growing, in population and in the scope of its programs, doesn't mean it has to lose the sense of community it developed in its first 50 years, Belicki says. "That expectation that this is a larger community can still hold in a bigger school."