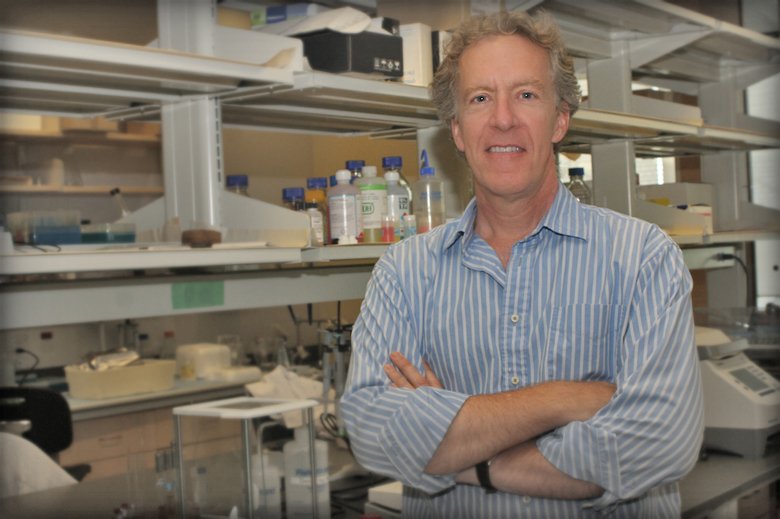 When Jeffrey Atkinson joined Brock's University Chemistry department in 1993, he was one of the first professors hired who wasn't part of the original team when the university opened in 1964.
Now, after more than 20 years on faculty, he has witnessed the department renew itself as the cohort of Day 1 professors gradually retired. Being at the front end of that kind of turnover convinced him it's his colleagues – fellow Chemistry professors – who are best equipped to know who to hire and when to hire them.
Atkinson came to Brock in 1992 for a limited-term teaching appointment after his second post-doctoral fellowship at the National Research Council in Ottawa. As luck would have it, a tenure-track position opened up later that year and he got it. He joined the Chemistry department's full-time faculty in 1993.
Atkinson now teaches courses in Chemistry, Biochemistry and Biotechnology. He has been the Director for Brock's Centre for Biotechnology and has served as Chair of his department.
As one of the first hires since faculty renewal began in the department, Atkinson was in a unique position to watch the department renew itself as professors retired.
"By 2009, we had effectively replaced the entire department over the course of 15 years," he says in an interview in his fourth-floor Cairns Complex office.
It gave him an appreciation for the shared academic decision-making function that he says is so important to universities. It's the idea that professors themselves – equipped with their own research credentials and teaching experience – are in the best position to determine who joins the department and when.
"We spent a lot of time making sure that the people were going to invest themselves in a school like Brock … and that we find people that were in a certain slice of the discipline that they're not going to find themselves all by themselves and lonely in the profession," Atkinson says.
Atkinson's experience in seeing a department renew itself makes the university a strong university. The Brock University Faculty Association is highlighting the work of some of its members as the university marks its 50th anniversary. BUFA represents approximately 570 full-time faculty members and professional librarians at Brock. As Brock marks this milestone, BUFA is raising awareness about how professors and librarians are leaders in educational quality, academic freedom, shared academic decision-making, and community building that make Brock an exciting, vibrant institution of higher learning.
While the university grapples with financial realities, it's important for a department to be able to fill vacancies when they arise and how its members see fit, Atkinson says.
Leaving vacancies unfilled could cause an interruption and create significant gaps in the mentorship that needs to occur between younger professors and their more experienced colleagues.
"They start almost in a vacuum. And lacking collegial mentorship, it makes it extraordinarily difficult to keep a department humane," Atkinson says.
Students will notice a department that hasn't properly planned for the succession of its faculty, Atkinson says. Upper-year students, especially, will see a difference between working with a tenured faculty member and a professor who is on contract. Research evolves over time and sessional faculty are unlikely to have established a research program in which students can participate.
Atkinson questions whether a dean, whose traditional role has been to liaise between the faculty and the administration, could have a broad enough background to be able to determine who and when to hire for all the departments in a particular faculty. For example, in the Faculty of Mathematics and Sciences, the dean oversees subjects from Mathematics and Computer Science to natural sciences like Chemistry and Biology.
"Can you imagine someone who has the expertise that's broad enough… to make informed decisions about subjects from mathematics ­­­and statistics to medical biotechnology?" he says.
That's why it's important for Brock's faculty members to hold onto the shared academic decision making role they have now. Professors in each department know best what their department needs, they know how a new professor's research agenda can be integrated into an existing department and they know what courses a new hire will be able to teach.
"New blood at the appropriate time at the appropriate level," Atkinson says. "Put it in the hands of the people who know enough… to make the wisest choice."
Taking that responsibility away from professors – for the purpose of saving money – cuts to heart of what a university is, Atkinson says.
"I'd have to question what kind of university you think you're running. It's begun to lose the definition of what a university is, which is freely inquiring academics allowed and able to ask questions at a level higher than most."