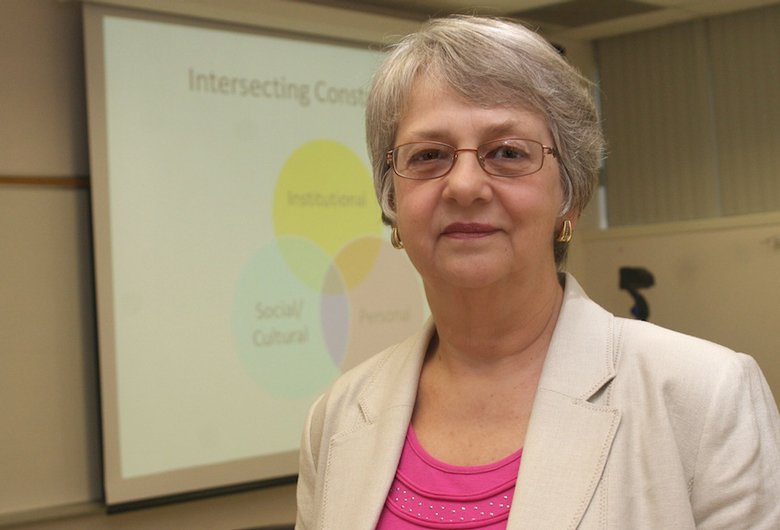 Professor Coral Mitchell, a member of Brock's Faculty of Education, says she could teach auto mechanics if the university asked her to, but it wouldn't be the best use of her expertise and it wouldn't be the best experience the students could get.
"I can do it… I can teach automotive mechanics if I had to because I'm a teacher. It's not giving the students the best educational experience because I don't research in that area and I don't know enough about it," says Dr. Mitchell. That's why shared academic decision-making is such an important part of a professor's job, but because it's behind the scenes, students and the public are not familiar with it.
Determining course workloads – issues like what courses are offered in a year, who teaches them and when they're offered, is part of the often unseen work faculty do at Brock. It's called shared academic decision making – the responsibility faculty have to work with the Administration to determine issues like professors' course loads and what classes are taught when. Professors are expected to spend 20 per cent of their time involved in that kind of committee work that helps the university run well.
"Because we have autonomy over our work, we have input into all those organizational arrangements that govern our activities, that regulate our lives and connect us. In school systems, teachers don't have that participatory right," Mitchell says.
Mitchell has been a professor in the Faculty of Education at Brock University since 1995, when she moved to Ontario from Saskatchewan. She worked as a sessional teacher at the University of Saskatchewan and as an elementary school teacher before that.
Mitchell says she always knew she would be at home in an academic setting.
"I loved the notion of the academic environment. I loved the way in which academics had autonomy over their work, the way they could push the boundaries of knowledge and really speak up against any kind of abuses that they saw," she says. "This was absolutely the right place for me. I was always one of those critical voices."
Mitchell works in the Faculty of Education's undergraduate program where she helps future teachers become "organizationally literate – to get a sense of what kind of places these places called schools are." She also teaches in the graduate program where she works with school administrators and future administrators on leadership and professional development.
Mitchell's expertise in how to create a strong learning environment and her commitment to shared academic decision-making contributes to the quality of education at Brock. The Brock University Faculty Association is highlighting the work of some of its members as the university marks its 50th anniversary. BUFA represents approximately 570 full-time faculty members and professional librarians at Brock. As Brock marks this milestone, BUFA is raising awareness about how professors and librarians are leaders in educational quality, academic freedom, shared academic decision-making, and community building that make Brock an exciting, vibrant institution of higher learning.
Faculty members need to be involved in shaping curriculum and setting professors' workloads within a department, Mitchell says. They're the ones who know best what expertise exists within a department.
For example, when the Administration suggested cutting a "keystone course" in Education as a cost-cutting measure, faculty members exercised their authority to say no. This course delivered essential knowledge and skills that other courses in the program depended on. Without it, Mitchell says, the students' education would be incomplete.
"Because we had control over the program, we were able to resist the Administration's recommendation. We just said no. If we need to cut expenses, we'll cut them elsewhere, but we can't cut that course," she recalls during an interview in her Academic Hall office.
When professors dig in to defend changes to programs of study, courses or course load, it's because they have the expertise in their own subjects, they know what expertise their colleagues have, they know what the students need to know, and they know how an ill-advised change could harm students' overall education.
"Our right is institutionalized… to say that decision is not in the best interest of the program."
Being part of the university's decision-making is a time-honoured tradition in schools of higher learning, one that Mitchell says is worth preserving. As a self-professed "critical voice," Mitchell laments what she calls the "dismantling of the critical apparatus in society."
Across Canadian society, the institutions that have a duty to be critical, including universities, the news media, and independent government-funded scientists don't have the clout they had 20 and 30 years ago.
It's why she's an advocate for the preservation of academic freedom and for universities to create more tenured professor positions. Tenured professors can continue to be the "critical voices" society needs, speaking out without fear of losing their jobs.
"We have the standing to be heard. Because we can't be pushed around in our own organizations, we have the standing to be heard, to be credible in the larger community," Mitchell says.