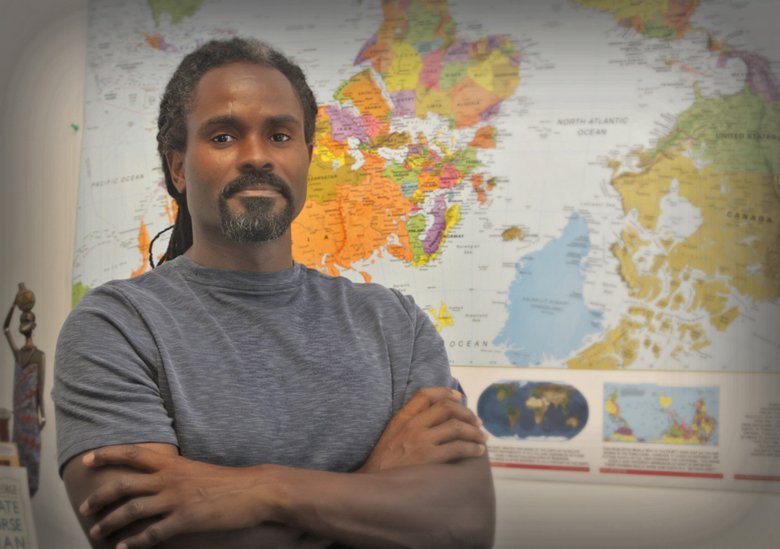 When you're teaching against the grain, you need to have the freedom to draw on your expertise, your research and your knowledge of what's going on in your field, says Tamari Kitossa, a Criminology professor at Brock University.
"We need to have diversity of perspectives," says Kitossa. "We need to maintain the right of the professoriate to have the academic freedom so they can expose students as much as possible to broad ways of thinking about what is happening in our society and how to think about how we understand ourselves as a society and where we're going. We can't do that if we're all singing from the same hymnbook."
Engaged faculty have spent years becoming knowledgeable about the history of their field of study, contributing to that scholarship by writing journal articles or books and keeping abreast of what other academics are writing, says Kitossa. That's the expertise they draw on when planning their courses.
"We get to select the texts and the readings that we use, based on our expertise."
Dr. Kitossa teaches in Brock's Criminology concentration, a specialized area of study within the Sociology department. With the abundance of cop shows on TV – Law & Order, CSI, and Criminal Minds, for example – students are arriving at Brock's door with an interest in Criminology, says Kitossa who joined Brock's faculty in 2006.
"Students are interested in this," he says, sitting in his third-floor office in Academic Hall. "There's a major interest in this more generally already in society. You have students already primed to have an interest in this area of study."
Emerging into departments and programs in the late 1960s and early '70s with agreat deal of direct and indirect state funding, Criminology, especially mainstream versions have been expanding for four decades. Unlike some other areas of study, Criminology is a subject whose research routinely gets public funding because governments see its research as "one way of managing populations that are troublesome; one way of systematizing and modifying human behaviour." But disciples of "Anti-criminology" challenge the "mainstream perspectives" that have emerged within Criminology over the years.
Kitossa is part of a scholarship stream known as "critical criminologists" or "anti-criminologists" that runs counter to some of the conventional thinking in Criminology. "What I want to do is to provide critical thinking tools to critique the dominant narrative so students know what it is they're committed to," he says.
For anti-criminologists, "crime does not exist," Kitossa says. "Crime is a social category created by particular types of social relationships… We can take a step back from treating crime as real and therefore we can explain how marginalized groups are criminalized while the environmentally and socially destructive behaviour of the corporate class, the state and elites engage in get passed of as business as usual," he says.
This school of thought allows researchers to consider how policing and prisons actually cause harms in society, rather than solve problems, Kitossa says. That kind of research and teaching can only thrive in an environment where professors enjoy academic freedom, Kitossa says.
"If someone comes in and selects my textbooks and compels me to offer instruction a particular way, that means the knowledge that I'm imparting to students is determined by the administration rather than my expertise."
Kitossa's approach to his field of study needs to exist in a strong university. The Brock University Faculty Association is highlighting the work of some of its members as the university marks its 50th anniversary. BUFA represents approximately 570 full-time faculty members and professional librarians at Brock. As Brock marks this milestone, BUFA is raising awareness about how professors and librarians are leaders in educational quality, academic freedom, shared academic decision-making, and community building that make Brock an exciting, vibrant institution of higher learning.
"One of the things Brock has going for it is that students can readily contact their professors. It's a small enough university where we can still have that one-to-one rapport unlike larger schools, where, really, that's a thing of the past," Kitossa says.
Kitossa says universities also need to resist a growing trend "to treat academia as if it were a corporate enterprise."Citing a number of researchers, he says that since the mid-1980s, institutions of higher learning have been corporatized. In the interest of generating revenue, universities risk treating students like customers who are purchasing a service – or "bums in seats" – instead of persons to be trained to think critically, to reflect on what they've learned and to apply this knowledge in their lives and in the work world.
"How do we make citizens, how do we enable citizens to be effective citizens, how do we prepare students for the work world if we're going to treat them as bums in seats – as commodities?" Kitossa says.
An emphasis on fiscal accounting and an environment in which some students understand themselves as consumers can lead to a certain degree of corruption in pursuit of knowledge. For example, a few students who have been dissatisfied with their grades have commented they deserve more than a B purely because they tried hard.
This consumerist approach to knowledge creates an environment where student evaluations of professors and courses can determine a professor's success or failure, and it risks the "dumbing down" of courses if professors start pandering to student expectations. "This, of course is not all students and I encounter many students who approach knowledge and learning as a social good, but in service to highest quality education for all students, the commercialization of learning should be resisted."
Quality postsecondary education requires an environment where professors are able to follow their research instincts, to develop their own expertise, and to teach the way that they need to teach.
"In any society, education is one of the most vital and expensive things that a society does for its citizens and members. You can go to the Kalahari – it's the same thing – education is a social good," Kitossa says.