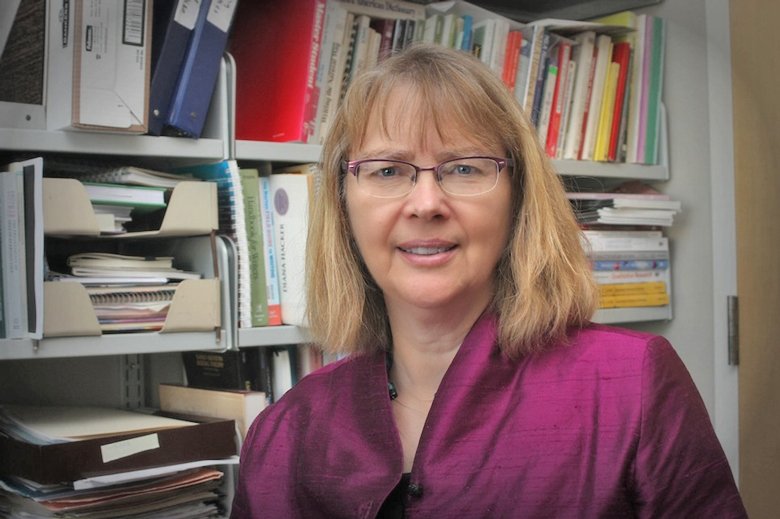 Whether they're teaching students about Canada's abortion legislation, probing environmental degradation caused by Canadian mining companies in South America or pushing for fair-trade coffee to be sold on campus, Brock University faculty members rely on academic freedom, says Sociology professor June Corman.
"The credibility of university professors, both in the classroom and in their research, hinges on the ability of university professors to think critically and to express their views without fear of reprisals from antagonistic, vested interests," says Dr. Corman, who has been a member of Brock's Sociology department since 1991.
Professor Corman teaches graduate-level courses in research methods and research design, but has also taught undergraduate courses in women and work, family, and social inequality.
Corman has served as the Director of Women's Studies, Director of Labour Studies, Chair of the Sociology department, and Associate Dean (undergraduate) in the Faculty of Social Sciences. She is a founding member of the Social Justice and Equity Studies masters degree and the Social Justice Research Institute.
While students are most familiar with professors at the front of the classroom, teaching is just one of three roles faculty members have at Brock and other universities. They research and also they have a responsibility to contribute to the collegial governance of the university.
Corman and co-researchers Anne Duffy (Brock University) and Noreen Pupo (York University) have examined the consequences of unemployment caused by the decline of Ontario's manufacturing sector by focusing on residents of Welland. They're also looking at the impact on women of job losses within Ontario's manufacturing sector.
Corman says critical thinking is "the foundation of the university" and says it needs to be protected by the freedom to examine issues critically without fear of reprisals.
The Brock University Faculty Association is highlighting the work of some of its members as the university marks its 50th anniversary. BUFA represents approximately 570 full-time faculty members and professional librarians at Brock. As Brock marks this milestone, BUFA is raising awareness about how professors and librarians are leaders in educational quality, academic freedom, shared academic decision-making, and community building that make Brock an exciting, vibrant institution of higher learning.
Professors need to be able to rock the boat from time to time, Corman says. Corman pointed to recent research done by a Brock colleague into environmental degradation in South America caused by Canadian mining companies. That kind of research could put faculty at odds with the Administration if the University's fundraising arm were trying to solicit donations from Canadian businesses, especially those in the mining sector. But, because of academic freedom and the value placed on critical thinking, professors have the freedom to explore these and other important issues.
"We don't have to worry about our jobs being jeopardized when we expose the degradation that Canadian mining companies are causing," Corman says.
In the classroom, professors have the freedom to teach their students about controversial issues like abortion legislation without the fear that they'll run afoul of campus groups that have a contradictory viewpoint.
"We can explain the pro-choice stance of Canadian legislation without fear of reprisal by anti-choice, religious groups," Corman says.
And when professors discover a university policy they disagree with, they have the freedom to challenge it and to encourage social-minded reforms. A few years ago, when Canadians began questioning the labour practices of clothing manufacturers in Asia, Brock professors pushed the Administration to adopt a policy that Brock's bookstore would not sell clothes and its sports teams would not wear clothes made in Asian sweatshops. Faculty members were also part of the push to have only fair-trade coffee sold on campus, Corman says.
"If we are constantly in fear of losing our jobs because we are thinking critically about events in the world and what we say in our research and what we say in the classroom, we basically become neutered," Corman says.